There's magic in each beginning – and if the strategy is set correctly, things will come to a successful end.
Training
"

Introduction to Strategy

"
Training Overview: Strategy in Companies
Target
The training introduces the basics of strategy making. We will show you the most important tools and methods for strategic planning and strategy implementation and how these are applied in your business environment.
Approach
It is our goal that you can apply the content of the training to your business. To reach this goal, we work with relevant case studies and allow sufficient time for your individual questions. In this way, we ensure that you aquire useful and relevant knowledge.
Benefits
The hands-on introduction to strategy making allows you to implement an effective corporate strategy right from the start. Based on thorough strategic planning and a focused strategy implementation, you will be able to enhance your long-term success.
Benefit from our experience to be one step ahead of your competitors.
Training Content: Strategic Planning and Strategy Implementation
This training is about the basics of strategy and covers different approaches to strategy, strategic planning and strategy implementation. Within the course, we will touch upon the following questions:
Introduction to strategy: What is a coporate startegy? Why do you need it to remain successful in the long run?
Strategic approaches: How can you approach strategy making? How can you match the appraoch to a given setting?
Tools for strategic planning: What are the most important tools for strategic planning? How are they used effectively?
Tools for strategy implementation: Which tools for strategy implementation are out there? How do they help you achieve your targets?
During the course of the training, you will get to know the basic terms, methods and tools for making strategy. We will discuss the strategy making process and apply the idea of vision-mission-strategy to your business environment. You will learn about the marketing, industrial organisation and stakeholder approach for strategy and how you may apply these concepts to your business. We will introduce the most relevant tools for strategic planning, e.g. benchmarking, GAP analysis or SWOT analysis. We will also introduce useful tools for strategy implementation as balances scorecard (BSC) or status analysis.
Training Details: What else should you know
Form 
After presenting the content, we will thoroughly discuss it with a strong focus on the application of the concepts in your business setting. We will take time to answer your questions in depth. Afterwards, you will apply the strategy planning and implementation tools to case studies because we strongly believe that knowledge is only useful if you are able to use it in your business.
Target Audience
You are an entrepreneur and currently developing your strategy? Or you are preparing yourself for a next career step which involves strategic responsibilities? Then this is the training you have been looking for.
Documentation 
You will receive a certificate stating the training's content and duration. Plus, we will hand out a copy of the training material and a photo documentation of the training session. This will enable you to check back on details whenever you like to.
Funding Opportunities 
Profit from state funding opportunities. The Bildungsprämie and the BildungscheckNRW each offers a 50% funding of the training costs. Contact us for additional information.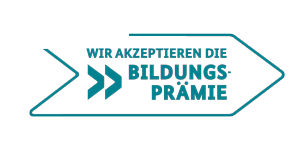 Additional Information
Additional information on the booking process and training terms and conditions are available here.